In many cases, managers fail to provide proper employee performance reviews. At times, we spend more time managing the underperformers than we do supporting the high performers who are generating the majority of the productivity for the company. Most managers many times do not have the time, tools or knowledge to properly appraise employee performance. Furthermore, the process of filling out forms performing reviews is monotonous, sometimes a waste of time, and many times counterproductive.
I had a conversation with a business associate whom is a department manager for one of the largest retailers in the country. His remarks reminded me of prior experiences with overachieving employees. He was trying to find a method to measure his, as well as his department's performance.
The scenario was always similar. The best employees would knock on my office door. I would invite them in to sit down. After the small talk, I would ask what's on your mind. Then the question would finally come out in the fashion of "How am I doing at my job? Are you happy with my performance?" Shame on all of us as leaders and coaches! We sometimes spend so much time chasing rabbits, putting out fires, and dealing with the problem child, that we don't take time for our primary responsibility - Manage People. We sometimes ignore the best performers.
When you send your child to school, how important is it to grade every quiz and test? Do you think the child benefits by knowing their grade and attendance record? Do they respond well to a good grade, praise, and a pat on the back? Do you think they are proud of a good report card or disappointed in themselves when they under achieve?
Overachievers are nearly always self motivated and want to know their performance. Employee KPI, Employee Performance Scorecards, employee dashboards are as important to the employee as the financial reports and financial ratios are to the GM or CEO. Employee Performance measurement should be made available to employees regul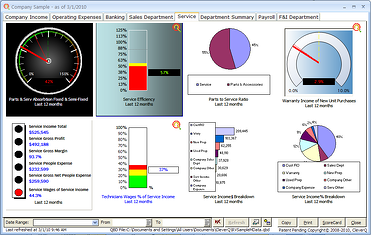 arly so individuals can manage their success.
Steps to develop KPI:
Organize a focus group. It should include the people taking the calls, fixing the problems, responsible for finances, etc. Keep the group well rounded with members who deal with the same problems from different perspectives, large enough to get different ideas, and small enough that decisions can be made.
Break down complaints, failures, problems into categories, this may come from support staff.
Try to keep the categories to around 8 for each sector of your business. Too many KPI for one department can become unmanageable.
Talk about how they relate to CSI, Costs, Efficiencies, and Revenues
Revisit each KPI and ask the group if each is important to monitor, or if it is a waste of time.
Talk about what information needs to be collected, or is being collected to measure it, or can it be collected.
What policies or procedures will be implemented to collect the data
How will it be reported
Who will be responsible for the project and reporting
How often will it be reviewed in scheduled meetings
Keep involving the team as to the resolutions of the KPI which are out of the desired range
Review your KPI periodically and decide if they are worth monitoring.
To implement a successful strategy, people must be involved in the process from the beginning. It's important that everyone buy in and take ownership. The key to developing a set of KPI is to develop a set which can be measured, and are able to put a plan into action to improve upon. History is the Key to understanding improvement!