Data Mining Software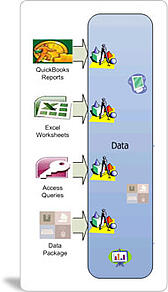 CleverQ™ Software makes managing data from virtually any source easy and intuitive. Data can be easily stored and organized, programmatically controlled to highlight threshold exceptions, and presented to fit specific business processes and metrics.
Mining Data
Combining information from multiple sources such as Microsoft Excel®, Microsoft Access®, QuickBooks®, ODBC connections, or manual entry via the CleverQ™ Data Package Creator is a snap. CleverQ computes and imports daily, monthly, Quarterly and Annual data totals while mining data.

Compatible File Types
Web Queries (*.iqy)
XML Files (*.xml)
OLAP Queries/Cube Files (*.ogy;*.cub)
Database Queries (*.dqy;*.rqy)
Paradox Files (*.db)
Microsoft Data links (*.ud)
Text Files(*.tst;*.prn;*.csv;*.tab;*.asc)

Web Pages (*.htm;*.html;*.asp;*.mht;*.mhtml)
Excel (*.xls;*.xlsx)
ODBC file DSNs (*.dsn)
Access Projects (*.ade;*.adp)
Access Databases (*.mdb;*.mde)
Office Data Base Connections (*.odc)
QuickBooks & QODBC
*Some file types may require the use of excel
Data Warehousing
Electronically store data from multiple sources – CleverQ™ Software collects and organizes a wide range of data for future analysis and reporting. CleverQ™ Software's Data Scheduler can refresh data in real time (as little as 1 minute intervals) and calculates seasonal trends from your historical data. Data is stored in the user's choice of the built-in & secured Access based data file or SQL Server Database.